Service Process
How to place an order
---
The senior customer service team
Team members of Jyu Fong Machinery will provide you with professional purchasing suggestions to help you find suitable models. One of our advantages is to bring you immediate after-sales service. After you receive the product, if you have any questions, please contact us through email or phone call.
Please refer to the following steps of ordering process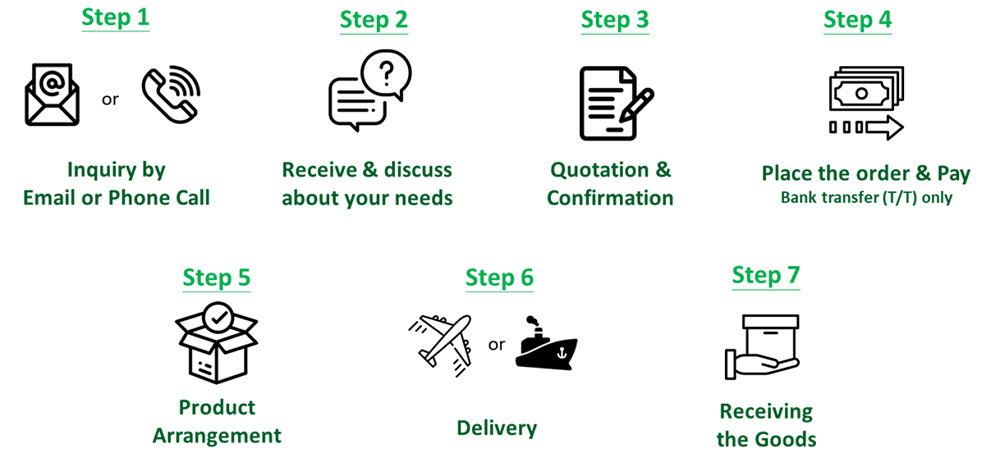 Step 1: Inquiry by email or phone call
Please leave your message on the inquiring sheets, and we will reach you as soon as possible.

Step 2: Receive & discuss your needs
After receiving the inquiry, we will discuss about customers' needs and recommend the suitable models.

Step 3: Quotation & Confirmation
According to our discussion, we will make you a quotation. After the customers confirm by email, we will bring you the bank information for paying.

Step 4: Place the order & Pay
We only accept bank transfer (T/T) for payment.
Once we receive the payment, we will start to arrange the products.

Step 5: Product Arrangement
It takes us at least 3 workdays to arrange the products. It will be different from every quotation.

Step6: Delivery
We bring you the tracking number and the related documents of shipping after we deliver.

Step 7: Receiving the Goods
Please check the condition of goods after you receive the products asap. If there has any problem, please contact us.
After-service process
Our team has fruitful experience on machines. For after-sales service, if you encounter any problems, please reach us by email, or call us during working hours: 886-4-22116175. You can also join our official LINE account: @jeb8501c. Please tell us your problems with photos or videos to assist our technicians to understand the situation, and we will troubleshoot online.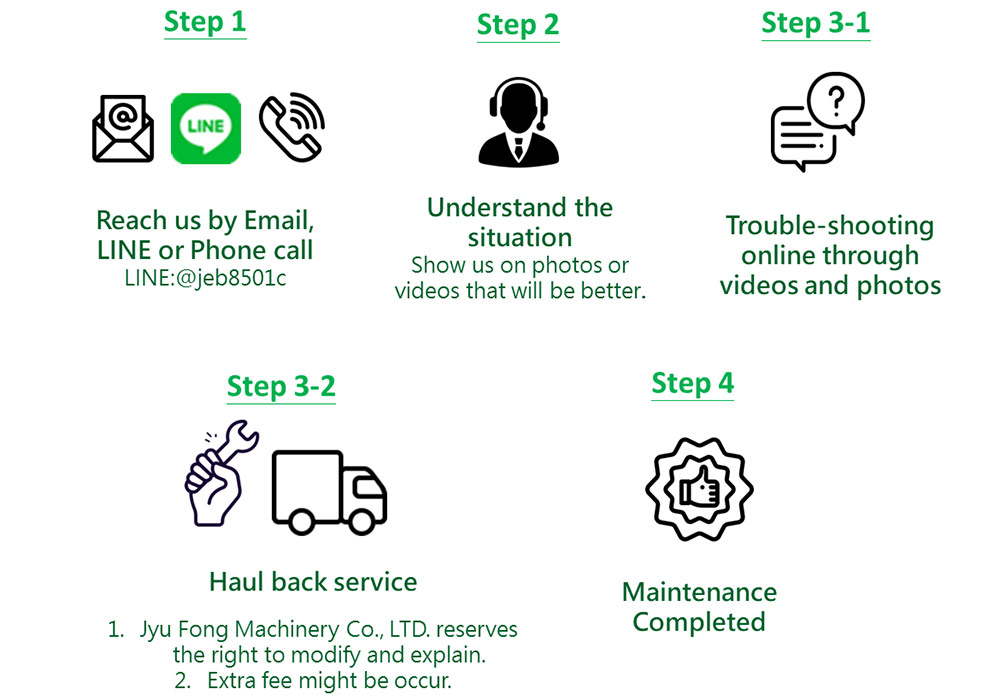 Step 1: Reach us by Email, LINE or Phone call
Please leave your message on the inquiring sheets, and we will reach you as soon as possible.

Step 2: Understand your problems
Please show us your problems with photos or videos will be better.

Step 3-1: Trouble-shooting online through videos and photos
We will make videos or photos to help customers solving the problem.

Step 3-2: Hauling back service
If customers cannot solve the problems by themselves, we will consider hauling back service.
There will have an extra fee for shipping and maintenance. We will discuss and make a quotation first.

Step 4: Maintenance Completed
Through steps 3-1 and 3-2, we finish the after service process.
If you still cannot solve the problem, we will talk about the haul back service, replacement or return. This way may have other fees, so we will make a quotation for you first. Jyu Fong Machinery Co., LTD. reserves the right to modify and explain all the terms.