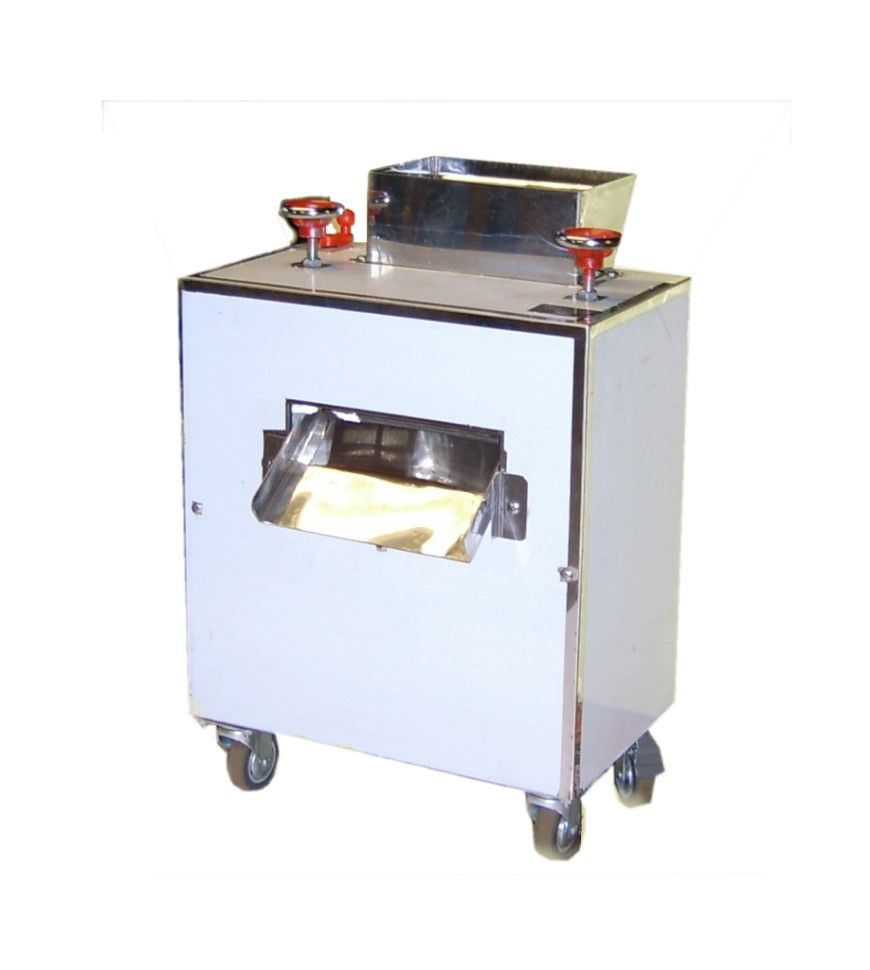 Commercial Vegetable Cutting Equipment
Vegetable Shredder, Slicer, Crusher,Smasher
Commercial vegetable processing machines are for processing amounts of fruits and vegetables, including pressing, dicing, slicing, shredding, shaving or grinding. We provide to those in need, like food processors and Chinese Style food producers.
---
Commercial food crushers are for crushing foods such as ginger, kumquat, and lemons. It consists of three gears that can press the gingers to be flat but not make it finely chopped. The purpose of the machine is not to make juice of the food; it just that the flavor comes out by squashing it. Therefore, the food can completely release the flavor itself during cooking. The space of gears has 3 - 4mm to adjustment finely.

Different round disc blades make the various functions of the machine. For example, Multi-Function Vegetable Cutting Machine 1Hp is for dicing, slicing, and shredding on hard rhizomes. This model has excellent performance on carrots, radishes, and potatoes. Commercial Electric Vegetable Shredder 0.5Hp is specialized for shredding hard rhizomes. It usually appears in the processing of making radish cake.

Commercial Vegetable Grinding Machine 1.5Hp uses to making garlic, ginger, radish, or carrot into the mash. Celery Cutter Machine cut the celery, scallion into sections, and you can adjust the speed of the conveyor to control the length. Commercial Salad Spinner can afford 6kg at once operation. It uses to drain or de-oiling by centrifugal force.

Please contact us with emails, or leave your questions and information below the products pages. We will contact you asap.
E-Catalog Download
E-Catalog!!

Download
Commercial Vegetable Cutting Equipment - Vegetable Shredder, Slicer, Crusher,Smasher | Over 50 Years Food Machinery Juicer & Blender Manufacturer | JYU FONG MACHINERY CO., LTD.
Located in Taiwan since 1968, JYU FONG MACHINERY CO., LTD. has been a stainless steel food machines manufacturer. Our main food machines, including Commercial Vegetable Cutting Equipment, Electric Ice Shavers, Meat Grinders, Fruit Juicer Machines, Ginger Crushing Machines and Vegetable Cutting Machines, which have won the IPO design patent and CE certified.
Our staffs have rich experience. 70% of them have more than 18 years of experience and perfect cooperation among members. Besides the regular products, we pursue the new elements of machine to fit the market needs. We are specialized in ice shaver, meat grinder, kumquat & lemon crusher, vegetable dicer and stripper, bean grinder and rice grinder. All Jyu Fong food machines are 100% made in Taiwan, we take excellent technology at Electric and manual ice shaver, Electric meat grinder, Wheatgrass Masticating Juicer and so on. We do quality control at every step, so we bring you the best quality.
Fujimarca has been offering customers high-quality industrial food machines, both with advanced technology and 50 years of experience, Fujimarca ensures each customer's demands are met.
View our heavy duty food grinders and crushers
Ice Shaver
,
Meat Grinder
,
Ginger Crushing Machine
,
Masticating Juicer
,
Blender
,
Rice and Soybean Grinding Machine
,
Separating Machine
,
Food Mixer
,
Dough Sheeter
,
Noodle Maker
,
Flatten Machine
,
Vegetable Cutting Machine
and feel free to
Contact Us
.