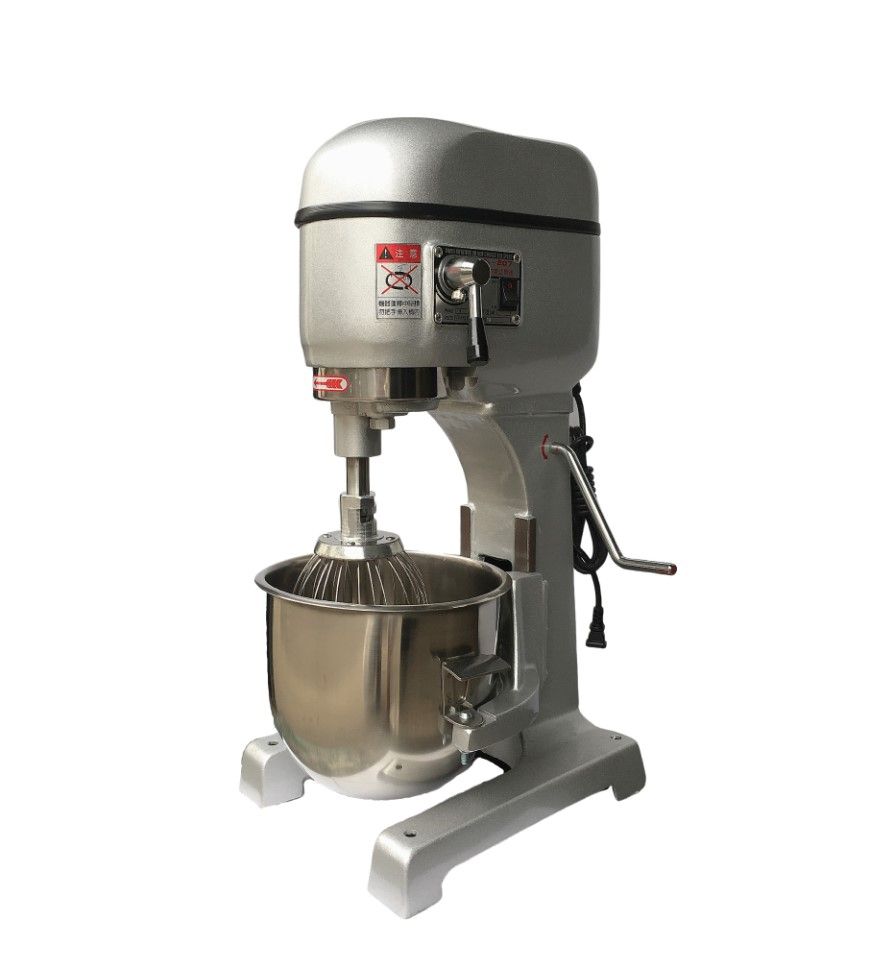 Food Mixer
Commercial Food Mixer
We provide various food mixers with multi-functions. The series has a three-stage variable speed, and the drive of gear is low noise. The specifications and accessories are complete, which can effectively replace manual mixing, kneading dough or whipping up the eggs, etc. We have table types and floor types that are suitable for homemade or commercial customers. And also, the capacity can be 8L, 10L, 20L, 30L, or even much larger. For all models, there are four parts of accessories: stainless steel bowl, stainless steel whisk, flat beater, and dough hook.
---
For mixing massive solid or powder content, we provide Stainless Steel Single Shaft Food Mixer to solve your problems. The primary purpose of the stainless steel single shaft solid mixer is to mix the solid contents evenly. The shaft is horizontal and moving at low speed but powerful. The timer setting is an optional part, which can control the total time of the machine, swapping of forward & reverse, and automatic stop. The barrel capacity is available in 30L, 60L, 90L.

Click the product page below and fill out the form to leave your information. We will reach you as soon as possible!
E-Catalog Download
E-Catalog!!

Download
Food Mixer - Commercial Food Mixer | Over 50 Years Food Machinery Juicer & Blender Manufacturer | JYU FONG MACHINERY CO., LTD.
Located in Taiwan since 1968, JYU FONG MACHINERY CO., LTD. has been a stainless steel food machines manufacturer. Our main food machines, including Food Mixer, Electric Ice Shavers, Meat Grinders, Fruit Juicer Machines, Ginger Crushing Machines and Vegetable Cutting Machines, which have won the IPO design patent and CE certified.
Our staffs have rich experience. 70% of them have more than 18 years of experience and perfect cooperation among members. Besides the regular products, we pursue the new elements of machine to fit the market needs. We are specialized in ice shaver, meat grinder, kumquat & lemon crusher, vegetable dicer and stripper, bean grinder and rice grinder. All Jyu Fong food machines are 100% made in Taiwan, we take excellent technology at Electric and manual ice shaver, Electric meat grinder, Wheatgrass Masticating Juicer and so on. We do quality control at every step, so we bring you the best quality.
Fujimarca has been offering customers high-quality industrial food machines, both with advanced technology and 50 years of experience, Fujimarca ensures each customer's demands are met.
View our heavy duty food grinders and crushers
Ice Shaver
,
Meat Grinder
,
Ginger Crushing Machine
,
Masticating Juicer
,
Blender
,
Rice and Soybean Grinding Machine
,
Separating Machine
,
Food Mixer
,
Dough Sheeter
,
Noodle Maker
,
Flatten Machine
,
Vegetable Cutting Machine
and feel free to
Contact Us
.