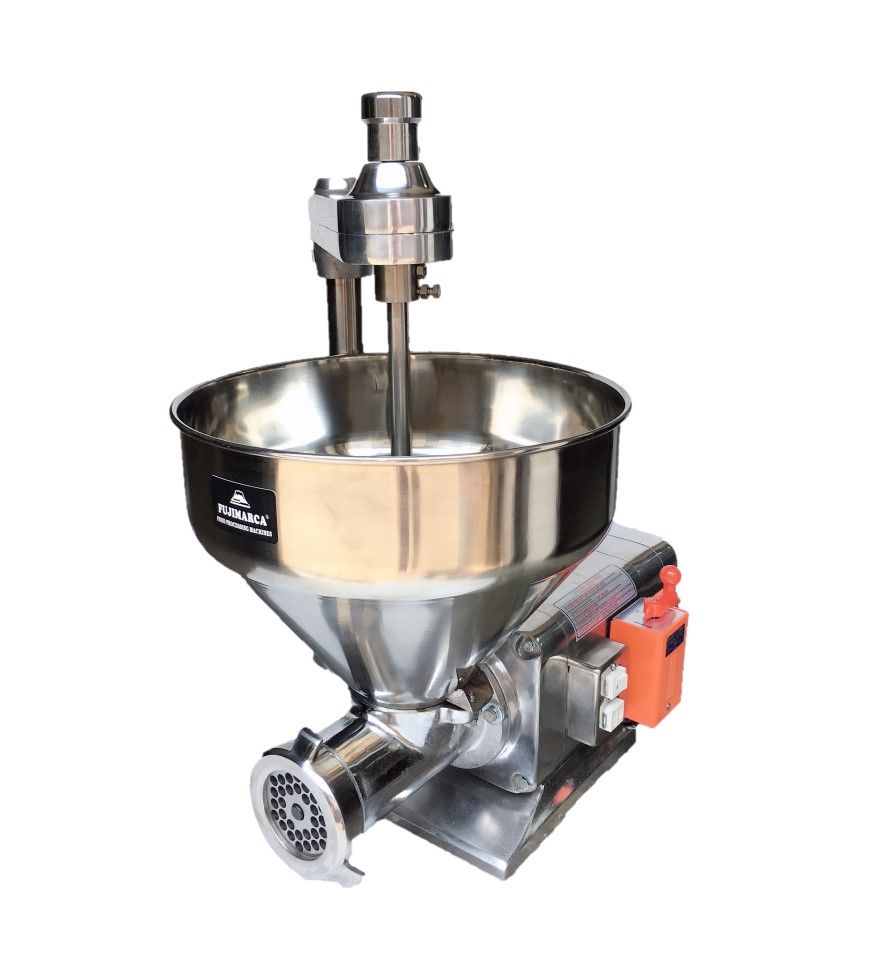 Meat Grinder and Sausage Stuffer
Meat Mincer / Sausage Stuff Filling Machine
Fujimarca Electric Meat Grinders and Mincers have the various horsepower and size of grinding sets. The main parts are made of iron casting or stainless steel two types. It is highly commended to chain restaurants, high-frequency users, and the laboratory of Food plants to use our Electric Meat Grinders have 1Hp and 1.5Hp to making raw meat, fish, and vegetable into small pieces. The productivity is 200 - 250 kg of unfrozen meat per hour. For butchery stores, food-processing plants, you need a professional food grinder & sausage filler as our MC-803 Electric meat grinder 2Hp and Professional Sausage Maker (MC-805 Table Type / MC-820 Floor Type). The average output is over 300 kg per hour.
---
We also have meat grinders for domestic usage. Like MC-806 manual meat grinders and MC-801 electric meat mincers, which power is 0.5Hp, 0.75Hp, or 1 Hp. They have a sausage-filling funnel inside the package, that helps you complete homemade sausage.

Jyu Fong Machinery's brand name is "FUJIMARCA" which has been lasted for over 50 years. We have fruitful experience in export, and we are looking for agents worldwide. For more information, please contact us.
E-Catalog Download
E-Catalog!!

Download
Meat Grinder and Sausage Stuffer - Meat Mincer / Sausage Stuff Filling Machine | Over 50 Years Food Machinery Juicer & Blender Manufacturer | JYU FONG MACHINERY CO., LTD.
Located in Taiwan since 1968, JYU FONG MACHINERY CO., LTD. has been a stainless steel food machines manufacturer. Our main food machines, including Meat Grinder and Sausage Stuffer, Electric Ice Shavers, Meat Grinders, Fruit Juicer Machines, Ginger Crushing Machines and Vegetable Cutting Machines, which have won the IPO design patent and CE certified.
Our staffs have rich experience. 70% of them have more than 18 years of experience and perfect cooperation among members. Besides the regular products, we pursue the new elements of machine to fit the market needs. We are specialized in ice shaver, meat grinder, kumquat & lemon crusher, vegetable dicer and stripper, bean grinder and rice grinder. All Jyu Fong food machines are 100% made in Taiwan, we take excellent technology at Electric and manual ice shaver, Electric meat grinder, Wheatgrass Masticating Juicer and so on. We do quality control at every step, so we bring you the best quality.
Fujimarca has been offering customers high-quality industrial food machines, both with advanced technology and 50 years of experience, Fujimarca ensures each customer's demands are met.
View our heavy duty food grinders and crushers
Ice Shaver
,
Meat Grinder
,
Ginger Crushing Machine
,
Masticating Juicer
,
Blender
,
Rice and Soybean Grinding Machine
,
Separating Machine
,
Food Mixer
,
Dough Sheeter
,
Noodle Maker
,
Flatten Machine
,
Vegetable Cutting Machine
and feel free to
Contact Us
.