Flavor Ice Block Making Machine
MC-730S
This model is for making flavor ice blocks, which need a low temperature. Our machine can reach -30 degrees Celsius, and it is an essential environment for making snow ice blocks. The production of this model is eight blocks a time, and each is about 2.5 liters. You can make 3 - 4 rounds per day without stopping, which means the highest yield is 32 pieces a day.
We recommend to medium-sized owners who are interested in developing their taste and want to monitor the process of making ice to make sure the sanitation.
We use 304# stainless steel plates, which meets the safety and hygiene standards. There is a simple control panel let you to read important data like temperature and pressure.

The cooling system is made of a gas-cooled system and a water-cooled system. The running liquid refrigerant of R404A is pushed by an independent pump, which can keep the level of liquid and led the temperature to be equal. The other parts of the machine, like the compressor and heat dissipation system, all keep the machine running in high efficiency. This model is built-in high and low voltage protection, as well as an electronic temperature display, making it very intuitive and safe to use.
The Process of Making Ice Blocks:
1. First, pre-cool the refrigerant for about 4 hours.
2. Pour the flavored liquid into stainless steel buckets and put the lid on.
3. It takes about 4 - 5 hours to complete.
4. Pick up the ice blocks and release them from the mold.
5. After put into the plastic bags, store them in the freezer.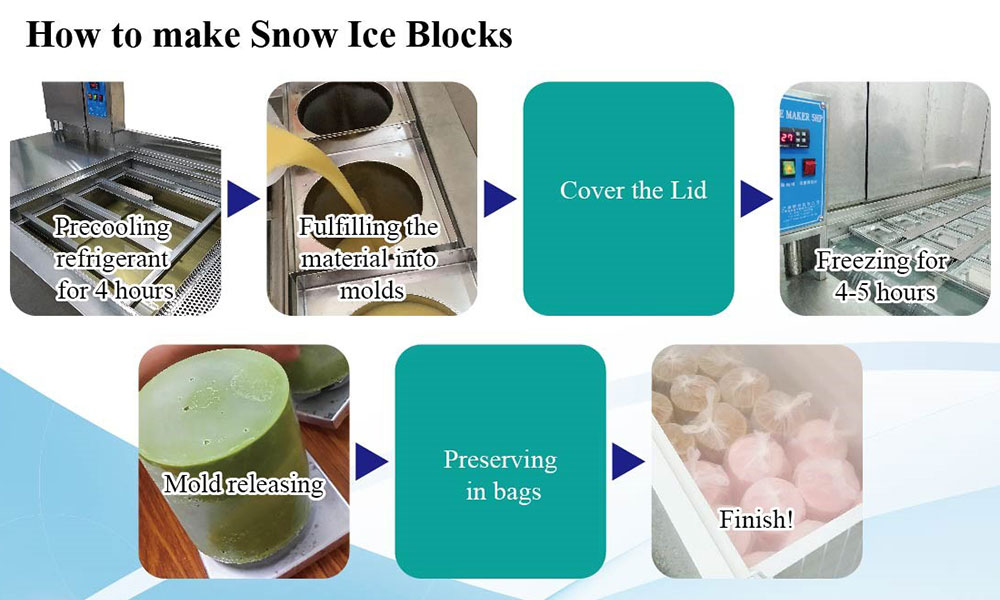 Features
1. Making ice block at -30°C.
2. Made of #304 Stainless Steel board.
3. Equips freezing tank, compressor and cooling fin. Equipped 1/2 Hp circulating pump to keep the temperature constantly.
4. Equipped Pressure Protecting Device.
5. Equips electric thermoregulatory display.
6. Use R404A Refrigerant.
7. Capacity: 8 blocks in a sink, 2.5L for each. You can do it 3 - 4 times per day.
Specification
Power of Compressor: 2HP
Voltage: Single-Phase 220V or Three-Phase 220V / 380V
Current: 15 A
Cooling System: Gas-cooled & Water-cooled
Machine Size: 205 x 70 x 80cm ± 10%
Capacity: 8 Blocks Per Round, Each One is 2.5 Liters.
E-Catalog Download
E-Catalog!!

Download
Flavor Ice Block Making Machine - CE Certified & Award Winning Design Fruit Juice Processing Machinery Manufacturer | JYU FONG MACHINERY CO., LTD.
Located in Taiwan since 1968, JYU FONG MACHINERY CO., LTD. has been a stainless steel food machines manufacturer. Our main food machines, including Flavor Ice Block Making Machine, Electric Ice Shavers, Meat Grinders, Fruit Juicer Machines, Ginger Crushing Machines and Vegetable Cutting Machines, which have won the IPO design patent and CE certified.
Our staffs have rich experience. 70% of them have more than 18 years of experience and perfect cooperation among members. Besides the regular products, we pursue the new elements of machine to fit the market needs. We are specialized in ice shaver, meat grinder, kumquat & lemon crusher, vegetable dicer and stripper, bean grinder and rice grinder. All Jyu Fong food machines are 100% made in Taiwan, we take excellent technology at Electric and manual ice shaver, Electric meat grinder, Wheatgrass Masticating Juicer and so on. We do quality control at every step, so we bring you the best quality.
Fujimarca has been offering customers high-quality industrial food machines, both with advanced technology and 50 years of experience, Fujimarca ensures each customer's demands are met.
View our heavy duty food grinders and crushers
Ice Shaver
,
Meat Grinder
,
Ginger Crushing Machine
,
Masticating Juicer
,
Blender
,
Rice and Soybean Grinding Machine
,
Separating Machine
,
Food Mixer
,
Dough Sheeter
,
Noodle Maker
,
Flatten Machine
,
Vegetable Cutting Machine
and feel free to
Contact Us
.